Hey guys! if you're the kind of person who has zero organisation in their life, but a chaotic life that needs some, then this post is for you. I know that a lot of you may be thinking 'what the heck is a bullet journal' and my answer to that is it's a planner, tracker, to-do list and diary all in one. For a more in depth accounts as to what a bullet journal is … check out Ryder Carols video as he is the person responsible for this amazing creation.
In this guide I will be telling you what you'll need to start one, giving you some spread ideas and why it will be beneficial to you.
What you'll need
A Journal – Naturally this is an obvious one and I'm not saying this to be pedantic but to tell you that a dotted journal will work better. It makes creating spreads way easier as you can use your dots as measurements and it makes them easier to read when they've been completed. The journal I've linked beneath is the one I personally recommend based on paper thickness and general quality but there are cheaper alternatives that will do the job just as well. I actually recommend starting in a cheap journal until you know that you're going to stick to it and fill it in on a daily basis.
LEUCHTTURM1917 344792 Notebook Medium (A5)
Pens – Any pen will do for filling in your spreads but for creating them and making them look awesome, you're going to want felt-tips and fine-liners that are not going to run or go through the page (links below). Use them to make it colourful and unique to you.
Staedtler Noris Club 326 WP20 Fibre Tip Pen in Wallet, Assorted Colours, Pack of
24 Fineliner Colouring Pens Set Fine Point Pens 0.4mm Assorted Colours, Fineliners Coloured Pens
Ruler – You want your spreads to look tidy which you can do by making sure your lines are sharp and clean. It will make them far easier to read and they'll look a lot nicer on the page.
Spread ideas
Monthly Planner – You can use this to keep track of what you have to do that month. You put your birthdays, deadlines, holidays and your monthly goals all in one place while decorating it for that month (i.e Christmas for December).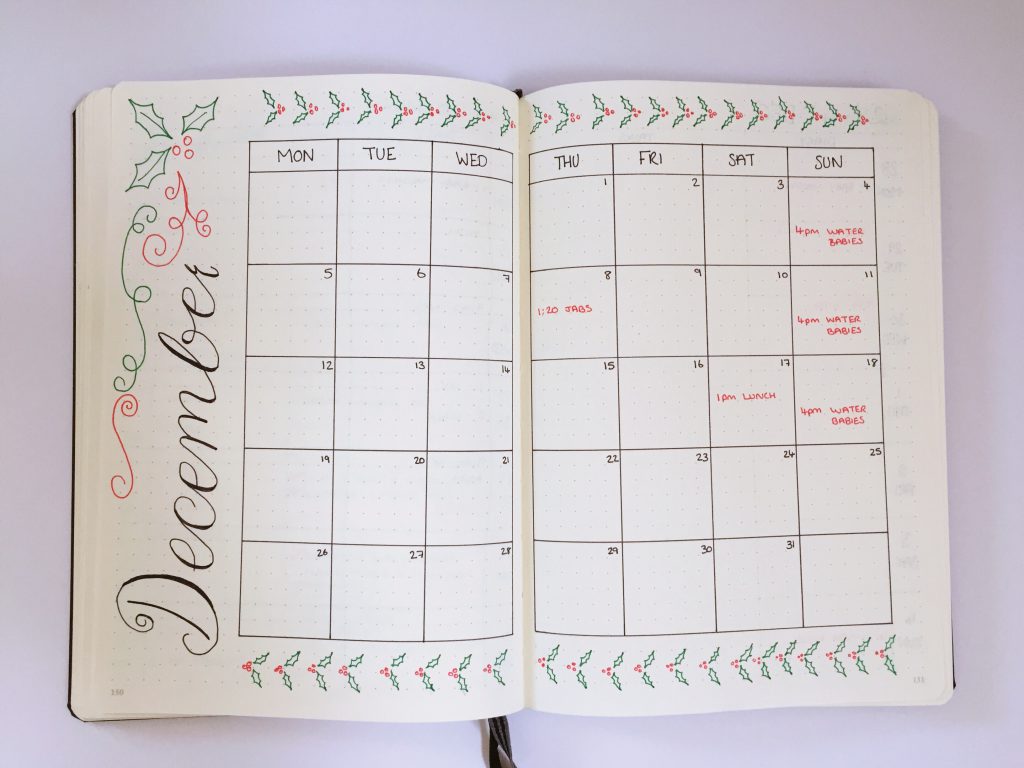 Habit Tracker – Habit trackers are a great way of getting yourself into a good routine, keeping track of your goals and helping yourself live a healthier lifestyle
Weekly timetable – This one is for you students. As some of your timetables may change weekly, it would be a good idea to note them down and have easy access to them. You could also include private study into the timetable which help make sure you're getting all your work done. I haven't included an image example for this one as it will be very individual to everyone
Other spreads include; to-do lists, reading trackers, TV show trackers and even spending logs.
Starting a bullet journal will really help you become a more organised and stress free person because you will have everything in one place and you'll easily be able to see what needs to be done. Also, having a bullet journal allows you to have some down time as you can take 20-30 minutes to sit down and just relax while creating your spreads.
My guide today has been the most basic of the basic because what i've said is really all you need. Yes, it is nice to have all the pretty things and for it to look amazing but at the end of the day … not everybody is artsy or creative but that doesn't mean they can't still create their own bullet journal. Of course you can buy the fancy pens or stickers to make them extra appealing but you can still get organised without them.
I really hope you consider starting a bullet journal and that this of use to you if you do. Have fun!